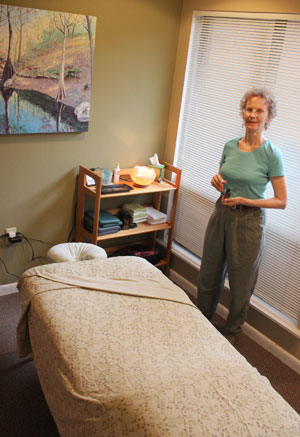 Tell me about the issues in your tissues - Acute muscle pain (such as from unaccustomed workouts or yard work) can often be resolved in one session; chronic musculoskeletal problems (e.g., postural or professionally induced) may take several weeks or longer.

Bodywork and Movement can help you, naturally. A lot of problems originate in immobilized soft tissues. Congestion, stiffness, and pain can be reduced with movement, given the right cues in form of structured touch or gentle traction. Motion is lotion!
45 minute sessions (allergy/congestion, jaw/mouth pain) $60 60 minute sessions (chronic or more extensive problems) $75 90 minute sessions (detailed full body tune-up; or yoga combos) $100
Our office, Integrated Manual Therapies is conveniently located near the intersection of Newberry Road and Tower Road, at 7328 West University Avenue Ste. F. Balanced Body Gainesville (group Yoga classes) is nearby at 100 Tower Road, Ste. 106. Call me for an appointment or more information at 352-281-1048.
Invest in Your Wellness. Consistently applied bodywork and mindful exercise for posture and relaxation can be effective tools for reducing stress, and improving healing and health maintenance, without drugs and surgery. I offer massage therapy and Yoga group and private classes, which have helped my clients to get back to function and quality of life. For a sample of Yoga stretches you can do at your desk, follow along with this video here for a refreshing work break. Yoga is also a proven way to increase bone mass, and support Scoliosis.
Movement is The Key to Health. Recent articles in Consumer Reports and CR on Health recommend massage and movement such as Yoga as first-line pain killers (once your physician has checked you), for conditions such as back pain, Osteoarthritis, and Fibromyalgia, without side effects from medication. I have successfully reduced and eliminated migraine headaches, back and hip pain, knee and foot pain with deep tissue work on trigger points and connective tissue, reduced overall discomfort and stress with Zero Balancing, reduced allergies and edema with manual lymph drainage, and helped to improve motion patterns with Yoga.
Our bodies want to heal - and they will, if given regular cues in form of structured touch and movement! Invest some time and effort into eliminating the causes of discomfort (including stress) rather than just reducing the symptoms. You will gain long-term improvement, without side effects.
Call me for a free 15 minute telephone consultation! 352-281-1048.
Maggie Kampny